Who is online?
In total there are
13
users online :: 0 Registered, 0 Hidden and 13 Guests :: 2 Bots
None
Most users ever online was
111
on Thu 12 Dec 2013, 2:28 am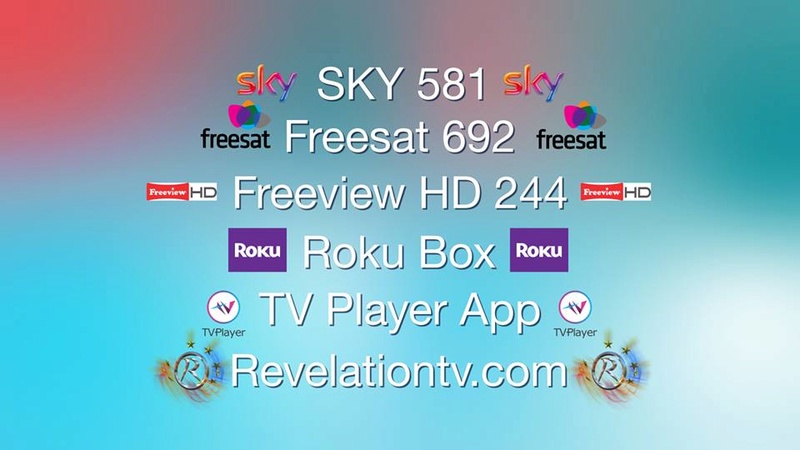 The God of the second chance
We want to send you warmest greetings for this New Year. This is the time of the year when we make our New Year resolutions and set our goals for doing better in the new year.
I don't know how long it is since you were at school. Do you remember those school reports? The head teacher's comments came at the bottom of my report. It has been a good year. Excelled in everything! I rarely achieved that! Most times it was…Could do better. Tried but only average in most subjects. School was never my forte!
As you look back on 2017, maybe you have had some success but overall you could have done better … and will try to do so in 2018!
A member of our team wrote recently and apologized that they had failed in certain areas during 2017. I wrote back to tell them that we serve the GOD OF THE SECOND CHANCE.......
Continue reading "The God of the second chance"*
http://www.revelationtv.com/rnews/entry/the-god-of-the-second-chance
*The views expressed in this blog are those of the author and are not necessarily those of Revelation TV.
Copyright
2018 Revelation TV, All rights reserved.
Our mailing address is:
info@revelationtv.com
Revelation TV presents: The Christmas Story
Watch as some of your favourite Revelation TV Presenters recite the Nativity story, whilst accompanied with beautiful and vivid imagery. Simply click here https://www.youtube.com/watch?v=l2KzRGkJd4E
to watch and don't forget to share this video with your friends and loved ones.
www.revelationtv.com 
http://www.revelationtv.com Revelation TV Presents: The Christmas Story
http://www.revelationtv.com/rnews/entry/european-court-and-sharia-law
European Court and Sharia Law
When the Brexit debate was at its height, some viewers complained to the Charity Commission that Revelation TV was straying into the political field with statements the TV channel was making about Brexit. Thankfully we were able to convince the Charity Commission – successfully I might add - that our statements were not political, but spiritual.
If ever there was an example of how right we were to argue spiritually concerning Brexit, it was what happened in the Grand Chamber of the European Court of Human Rights last week, where two sisters tried to say that sharia law should apply to a person's estate even if it meant overturning a legally drawn up in accordance with Greek law where she lived, inherited the entire estate of her husband when he died. Two sisters of her husband claimed that since her husband was a Muslim, the inheritance should be allocated according to sharia law, and adjudicated by the mufti. Sharia law would divide the estate differently to how the Will had dictated.
The case has gone all the way to the European Court of Human Rights. Whatever they decide cannot be appealed and becomes law, not just in Greece, but THROUGHOUT EVERY MEMBER STATE OF THE COUNCIL OF EUROPE, INCLUDING THE UNITED KINGDOM.
It doesn't need me to tell you that sharia law is fundamentally contrary to all that we believe, and to English law. Freedom of speech, freedom of religion and so many rights of women, would go if sharia law became dominant.
Thankfully there are organisations such as Christian Concern and the Christian Legal Centre who have submitted briefs to the European Court as to why sharia law must not take precedent over individual countries domestic law.
Do you think this is something that is not of interest to you? If so, don't start moaning in a few year's time when you hear of town squares around the British Isles where thieves are having hands cut off and adulterers are being stoned!
Pray for the judges who are considering the issues and will make their decisions in a few month's time.
Gordon Pettie, CEO.
INFORMATION - The
case is Molla Sali v. Greece
(application no. 2042/14)
http://www.revelationtv.com/rnews/entry/european-court-and-sharia-law
http://www.revelationtv.com/rnews/entry/european-court-and-sharia-law
I have been watching THE MIDDLE EAST REPORT with Simon Barrett it is an hour long but If you are able go to http://www.revelationtv.com/
online and watch/listen to the catchup. I promise you will learn from this, an eye opener.
Today's Programme Exclusive interview with Col. Richard Kemp CBE former head of British military intelligence in Afghanistan.
No holding back what he knows and that there are army members that should not be allowed back into UK some who took part in the attrocities with Muslim's such as rape. 
Col Richard Kemp  Will be presenting a Documentary  FILM  WHOSE LAND 
EXPLAINING IN DETAIL WITH MANY EXPERTS. 
Strongly urge all viewers encourage others to watch,  it will be an eye opener that people do not know. 

Colonel Richard Justin Kemp CBE is a retired British Army officer who served from 1977 to 2006. He was Commander of British Forces Afghanistan, an infantry battalion Commanding Officer, worked for the Joint Intelligence Committee and COBR and completed 14 operational tours of duty around the globe.
After retiring from the army, Kemp turned to writing. His first book, Attack State Red is an account of the 2007 campaign undertaken by the Royal Anglian Regiment, documenting their initial deployment and trials in Afghanistan. Attack State Red was listed as a bestseller in The Sunday Times,[2] two weeks after initial publication. He has also contributed articles to The Sun, The Daily Telegraph, Daily Mail, Daily Express and Breitbart News.
1977–2006
Rank    Colonel Unit Royal Anglian Regiment
Battles/warsOperation Banner
Gulf War Bosnian War War in Afghanistan Iraq War Awards Commander of the Order of the British Empire
Queen's Commendation for Brave
Join Simon Barrett for a series of political interviews with prominent Christians from the main political standing in this years General Election. https://www.youtube.com/watch
Michael Gove 
Stephen Timms MP
David Kurten
William Dyer
@SydneyCordell
The General Election 2017 – Interview with Rt Hon Michael Gove - Conservatives
http://www.revelationtv.com Join Simon Barrett for a series of political interviews with promient Christians from the main political standing in this years General Election.
https://www.youtube.com/watch?v=Se4MX_bCLy4&list=PLKz9FqNW521LNLSPRBnFvwAgr2fncJ8Lu
Middle East Report
TODAY AT 7PM GMT: In this week's Middle East Report Simon Barrett and Lady Valerie Cocks from the House of Lords, will be discussing the challenge posed by the raise in anti-Semitism to the Jewish Community in Britain. We will also be discussing the reaction of Jeremy Corbin the new leader of the Labour Party and how his leadership affects Labour supporters of Israel. Finally we will be discussing the silence regarding the persecution of Christians in the Middle East.
The Church would have been better off without the Reformation. Agree? Disagree? Join us for a Live debate this Wednesday eve at 21.00hrs GMT. Don't miss it and spread the word!
Simon Barrett is usually in the Studio but here is what many others do not know about him
Source: The jewish Chronicle
A garden shed in Surbiton is not where you might expect to find a hotbed of fervent Zionism.
But it is here, behind a smart townhouse, that you find the British base of Revelation TV - an award-winning Christian channel watched by tens of thousands of supporters of Israel.
Not many within the Jewish community tune in to its range of shows, including one called Stand Up For Jesus. But the channel, founded in the mid 1990s, is dedicated to defending Israel and the Jewish people, and regularly hosts guests outspoken in their philosemitism. It is widely available, broadcast daily on Sky, Freeview and online.
The south-west London shed turned into a high-tech recording studio is occupied by Simon Barrett, host of the channel's Middle East Report. It is a weekly news programme in which the broadcast journalist interviews prominent figures from pro-Israel groups, religious organisations and the media.
"We want to implore viewers to stand with Israel and we wanted to bridge the gap between the Christian and Jewish communities," Mr Barrett explained.
"In so many churches the message of Israel has not been taught. Revelation TV founder 
Howard Conder took it upon himself to produce documentaries about Israel. The channel is a passionate supporter of Israel."
Mr Barrett fell in love with Israel after studying Middle East history at university. The three months he spent on an ulpan course in Israel "were the best experience of my life", he said. "I became immersed in the Jewish community."
The Hampshire-born presenter, who is a former Zionist Federation press and parliamentary officer, initially found himself behind the camera at Revelation TV, setting up interviews with Israeli politicians. He was soon fronting his own shows.
His big break came when he interviewed the then-Israeli ambassador to Britain, Ron Prosor, in front of a live studio audience. Since then his guests have included Knesset members, Israel's deputy foreign minister Danny Ayalon and successive deputy ambassadors.
"At no point in the programme do we evangelise the Jewish people. It's a matter of mobilising support. Particularly in the recent Gaza conflict we have highlighted the media bias," he said.
That Revelation TV is the only television news network allowed to film inside the Israeli embassy in London is a source of considerable pride.
Some of the channel's programmes receive around 90,000 viewers on Sky every week, and its website records around one million hits a month. But its value, 39-year-old Mr Barrett believes, runs deeper than the viewing figures.
"In recent years we have seen the erosion of our Judeo-Christian heritage. Israel is under siege and Bible-believing Christians have also been side-lined.
"Christians have a duty to stand with the Jewish people in fighting antisemitism and supporting Israel. We are seeing the walls break down between the two communities. The Jewish people have given us our moral code and for that we are truly grateful."
Revelation chairman Gordon Petite echoed his view. "The Bible calls the Jewish people the 'apple of God's eye'. Those who God loves, we should love," he said.
"The history of previous wars that Israel has been drawn into has shown the media to be biased against Israel. There is a need for untruth to be exposed, and truth proclaimed. Revelation TV is seeking to do that."
Mr Barrett is due to continue his presenting duties after he takes over as communications director at Israel advocacy group Bicom next month. He believes there is great potential for cross-over work between the Jewish and Christian communities.
"Standing together we can be a strong force. It's important for society and the nation for us to stick together. We are two minority communities now."
Last edited by Admin on Thu 01 Jun 2017, 4:38 pm; edited 1 time in total

Similar topics
---
Permissions in this forum:
You
cannot
reply to topics in this forum